All Southern Cross University staff have free access to the MindRazr platform by using the registration code:
SCU23
Available on iPhone and Android devices or via the web application. If you have previously installed the mobile app, it is important that you you update to the latest version to access new functionality and content.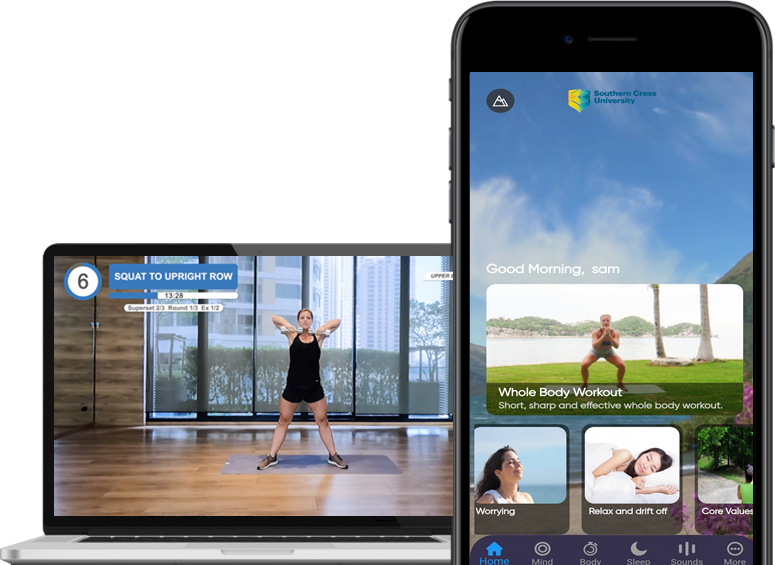 Spring Wellbeing Program 2023
We are excited to be running our ever popular Spring Wellbeing Program again this year, starting on RUOK Day (Sept 14th) and running through Mental Wellbeing Month (October) till early November. Over the course of the 8 weeks, we will be running another fantastic series of online workouts, yoga and mindfulness sessions, which will be replayed at various times on given days to accommodate different daily schedules. These free sessions are suitable for all ages and require no prior experience, but only undertake sessions appropriate to your health and fitness levels. If you have any concerns, make sure you consult with a health professional before joining in the sessions.
Check out the calendar schedule below, and then save your chosen events to your calendar to receive a reminder when the sessions are about to start along with a link to join the session. Alternatively you can just join one of the online sessions at the scheduled time via the button below or alternatively via the site link in any of the calendar items below.
The session should start streaming at the scheduled time, but if it doesn't start automatically at the scheduled time, then refresh your browser to update the video feed you might also need to press the "play" icon to start the feed, depending on your browser.
Please Note: We are aware that some iPhone models experienced some issues with the video feed. This issue is now resolved but iPhone users may still need to hit "Refresh" on their browser and then the "Play" button on the player controls, to start streaming the sessions at the scheduled time. This is due to new iOS default settings.
Disclaimer - By clicking on the links to join any of our online exercise sessions, you are providing implied consent that you have read, understood, and agree to the following terms. Participation in these online exercise programs is entirely at your own risk. Participants should only engage in exercises that are suitable for their individual health status, physical condition, and level of fitness. It is strongly recommended that you consult with a healthcare provider or medical professional for any health-related concerns or pre-existing conditions before initiating any new exercise regimen. The creators, producers, and distributors of these online exercise programs disclaim any liabilities or loss in connection with the exercises or guidance provided in these online sessions.
Supporting Your Wellbeing
MIND
MindRazr has a wide range of audio based exercises for stress, relaxation, focus, motivation and sleep. There are also exercises to help with habits around eating, drinking and smoking.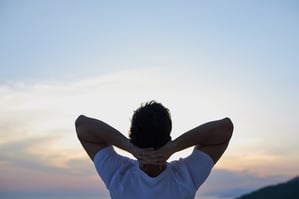 BODY
MindRazr has a wide range of video based content to support your physical wellbeing. MindRazr offers a wide range of on-demand video programs spanning body weight, cardio, functional fitness, stretching, yoga and pilates sessions.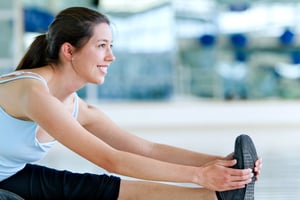 SLEEP
Sleep is central to our wellbeing. Drift off with guided sleep relaxation exercises, soothing natural soundscapes, ambient playlists or sleep stories.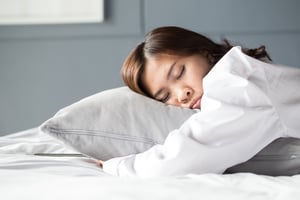 HABITS
Habits shape our daily lives, but how are they formed and what can we do to build new habits and break old ones? With the new MindRazr "Habit Hero" program, you'll learn the key steps to embedding new behaviours and why you'll need more than just willpower to build sustainable new habits.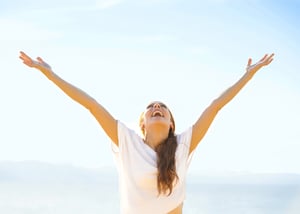 Your Total Wellbeing Toolkit
Check Out Some Of These Sessions
Week 2 Workout - Spring Wellbeing Program
Check out this great workout from our Spring Wellbeing program.
Week 2 Yoga- Spring Wellbeing Program
Week 2 Mindfulness - Spring Wellbeing Program
Relax & Reset
Take a moment to stop, breathe and relax and reset with this chilled out guided relaxation exercise.
Whole Body Circuit
Try this 12 minute whole body workout that is sure to get your heart rate up. No equipment is needed but make sure you warm up before hand, stay hydrated and only do exercises that you are capable of doing.
5 Minute Desk Workout: Legs & Core
No gym, no problem. Take a quick break to get the endorphins flowing.
Walking With Awareness
For something a little more relaxing but also great for your body and mind, try this mindful walking exercise. Not only is walking is great for your physical health but mindfulness is fantastic for your mental wellbeing.
Deep Sleep
Unwind and drift off with this guided sleep relaxation exercise.
Boring Books For Sleep - The Cricket Field
Quick taste of one of our delightfully sleepy readings of the "The Cricket Field" and the history of the game of cricket from 1882.
Boring Books for Sleep - The History of Tea
Quick taste of one of our delightfully sleepy readings, "The History of Tea".
Questions or Issues?
If you have any questions or issues relating to the MindRazr platform please contact the MindRazr support team via support@mindrazr.com